Computer stickers
TimeLeft Deluxe software proposes you very nice and flexible computer stickers. With TimeLeft computer stickers you don't need to stick post-it notes everywhere around your PC any more. TimeLeft computer stickers are little floating windows on your desktop. You can group them the way you want as they stick to each other automatically. Also you can define personal setting fro each of your stickers: color, font, size, border. You can add new stickers very quickly, so it does not take a lot of your time and attention





More about TimeLeft

TimeLeft is a countdown, reminder, clock, alarm clock, tray clock, stopwatch, timer, sticker, auction watch, web countdown and time synchronization utility.

TimeLeft has tons of features and options, at the same time it is user-friendly and very easy to use. Try TimeLeft and you will be surprised at its versatility.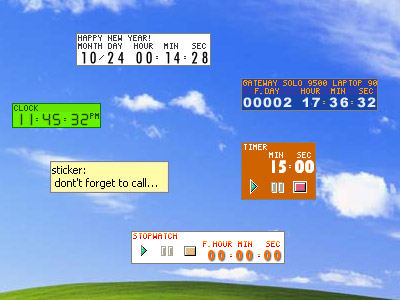 Main features

Computer stickers is a very convenient TimeLeft feature that allows you to use Computer stickers on your desktop. Computer stickers are very small floating windows on your desktop that can be grouped together automatically - this simplifies moving of your Computer stickers over desktop.

With TimeLeft Computer stickers all important notes can be simply placed right on your desktop.
No need to stick around your workplace any Post-it papers - you can organize all your notes with TimeLeft Computer stickers.


See also






Download FREE
TimeLeft


TimeLeft Freeware never expires, you can use it as long as you like!





Love TimeLeft?
You can appreciate its developers:






Get even more with
TimeLeft Deluxe



Just 19.96!
Full features, life time new versions!





What users say about
TimeLeft
This is great little free countdown program. Very customizable and works just fine with my Windows Vista