TimeLeft is a versatile desktop utility - it can be used as a countdown clock, reminder, clock, alarm clock, tray clock, stopwatch, timer, sticker, auction watch, work days/hours countdown clock and time synchronization utility. TimeLeft uses Winamp skins to show digits and text.

The main feature of TimeLeft is a powerful customizable reminder, which can show a message, play music (any formats including mp3) or open a link, document, execute an application, turn off your monitor or shutdown your PC.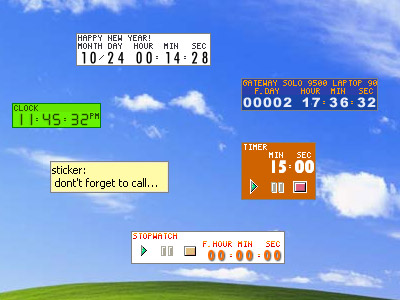 Main features
Reminder - alarms you about an oncoming event (you can run reminder at specific time or periodically: minutely, hourly, daily, weekly, monthly, annually or at certain Moon phase)
Trayclock - replace your Windows' built-in system-tray clock with skinnable TimeLeft clock
Clock displays time in different time zones
Countdown tracks the amount of time till (or passed after) the specified event
Stopwatch measures time interval
Timer measures time interval and signals its end
Sticker displays a sticky note on your desktop
Time Synchronization - TimeLeft uses atomic clock servers to adjust time on your computer
Auction Watch - you can watch and manage your online auctions (eBay etc.) using Auction Watch module
Countdown For Web - you can place a countdown to your web-page using Export to Web module
Working days/hours countdown - tracks the amount of working days, hours, minutes and seconds till (or passed after) the specified event
Floating Windows: every instance of a countdown, clock, stopwatch, timer or sticker is a separate fully customizable floating window
Zoom: every floating window may have its own size
TimeLeft uses Winamp skins or Font to display digits and text
Various patterns of changing digits:

- slide,

- metamorphose and more

More about TimeLeft features


Screeshots
What people say about TimeLeft
Can't wait for a glad event? TimeLeft makes it seem so much closer when watching the seconds ticking away!

TimeLeft is a good program for those of you who like to know how long it is until a big event - like the last mortgage payment or your child's graduation!

TimeLeft is pretty easy and pretty neat.
Easy, to the point, double click and use!
It is so much fun to check daily. Planning for something is half of the fun (especially if you planning your cruise vacation!)
I think it's a great countdown ticker program and a perfect alarm clock! I specially love the interface (very nice message schemes Christmas, birthday, Valentine's day)
TimeLeft countdown software gives years, months, weeks, days, hours, minutes and even seconds too! It can track down and up!
TimeLeft can be easily set up to count down to your favorite hockey or football game or anything else
I have a wedding coming up. TimeLeft is a great wedding countdown clock! We also are planing to have a child! And I think TimeLeft will help us to track baby's due date too...

TimeLeft is small and sits anywhere on your desktop (in front of any programs running) so you can always see it. It is good for me because I need to stretch every 20 minutes.
This little utility is very useful for people who need a clock that they can rely on to NEVER be late for an interview, meeting etc.
Great for remembering dentist or doctor appointments, helps not to forget about medications
I like this program because I can track how many months is left till my birthday
This skinnable clock is much better than the default clock that comes with windows. I prefer to have the date and a 24 hour military clock on my desktop
This is great little free countdown program. Very customizable and works just fine with my Windows XP
It is small, convenient and does not dominate the workspace
Full screen mode is very useful for live-events (we use it for conferences and presentations) - you can show on a big screen how long is left till coffee break, luncheon or you can use timer function in timing speakers to keep your presentation within the time allowed
I was looking for a retirement count down clock for my desktop and my web page. This one is good!
I am a contractor worker and TimeLeft work days/hours clock helps me to count how many working hours is passed since my contract start and how many is left till the contract end. Very useful.
I use TimeLeft as a working day countdown clock to figure the number of schools days left until summer break.



Download FREE
TimeLeft


TimeLeft Freeware never expires, you can use it as long as you like!





Love TimeLeft?
You can appreciate its developers:






Get even more with
TimeLeft Deluxe



Just 19.96!
Full features, life time new versions!