Javascript countdown timer
You can export your countdown timer to the Web using the Export Countdown to Web addon.

When exported javasscript is generated and all existing settings (size, layout, skin/font, title) are copied to the Web, so, the countdown timer on the Web looks exactly like on your desktop.





More about TimeLeft

TimeLeft is a countdown, reminder, clock, alarm clock, tray clock, stopwatch, timer, sticker, auction watch, web countdown and time synchronization utility.

TimeLeft has tons of features and options, at the same time it is user-friendly and very easy to use. Try TimeLeft and you will be surprised at its versatility.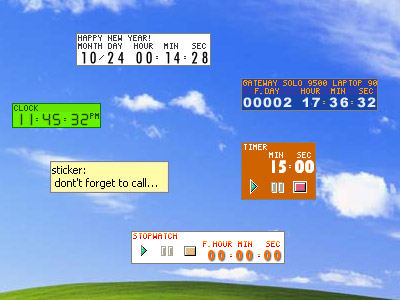 Main features

Javascript countdown timer - create your own web countdown using TimeLeft Export to Web addon.

You can select size, layout, skin/font, title of your Javascript countdown timer.
Then just copy it to the Web and enjoy it on your web site!


See also






Download FREE
TimeLeft


TimeLeft Freeware never expires, you can use it as long as you like!





Love TimeLeft?
You can appreciate its developers:






Get even more with
TimeLeft Deluxe



Just 19.96!
Full features, life time new versions!





What users say about
TimeLeft
TimeLeft is pretty easy and pretty neat. Easy, to the point, double click and use!