Free auction software
TimeLeft free auction software proposes you a free eBay auction countdown. Using TimeLeft free auction software countdown you can see at any moment your auction status, item name, the current bid, the highest bid, the time left till the auction end. You can setup your TimeLeft free auction software countdown to open auction link, play sound and display message before auction deadline





More about TimeLeft

TimeLeft is a countdown, reminder, clock, alarm clock, tray clock, stopwatch, timer, sticker, auction watch, web countdown and time synchronization utility.

TimeLeft has tons of features and options, at the same time it is user-friendly and very easy to use. Try TimeLeft and you will be surprised at its versatility.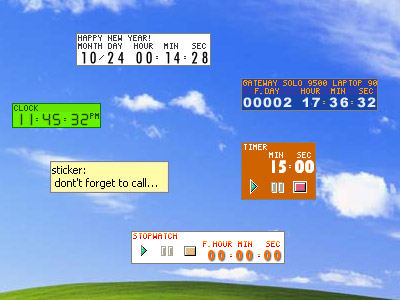 Main features

Auction List
All auctions are presented in one convenient Auction List, where you can see all necessary information.

Auction Alarm
You can setup your auction to open auction link, play sound and display message before auction deadline.

Auction Countdown
You can activate a countdown that displays Item Name and how long is left till auction end.

Automatic update
You can retrieve the most recent information about your auctions (like Current Bid, High Bidder) by pressing Refresh button. The other way is to setup TimeLeft Auction Watch to do it automatically. In this case TimeLeft Auction Watch downloads the current information about your auctions and updates Auction List every 30 minutes (this value can be changed).

Quick auction add/b>
Quick Add Button: TimeLeft Auction Watch can integrate Quick Add Button into your browser toolbar, so you can open auctions in your browser and add them into TimeLeft Auction Watch auction list quickly just by pressing Quick Add button.

Auction Basket Window: Auction Basket is a small stay-on-top window. You can add auctions quickly by dragging links from your browser and dropping them into the Auction Basket window.


See also






Download FREE
TimeLeft


TimeLeft Freeware never expires, you can use it as long as you like!





Love TimeLeft?
You can appreciate its developers:






Get even more with
TimeLeft Deluxe



Just 19.96!
Full features, life time new versions!





What users say about
TimeLeft
TimeLeft is pretty easy and pretty neat. Easy, to the point, double click and use!